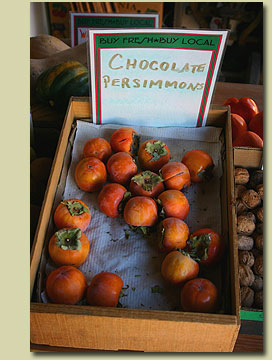 Otow Orchard's work and products have been featured in a number of newspapers, magazines and television shows. Here's a sample:
› California Gold with Huell Howser inerviewed us about our Hoshigaki for the September broadcast, "Persimmons"
› California Country Magazine included an extensive profile of Otow Orchard, A treasure to savor, in the Nov-Dec 2007 issue.
› Sierra Heritage Magazine ran an article featuring Otow Orchard in the October 2007 issue.
› Channel 10 News has an interview with us on how the need to pay residential water rates is threatening our farm.
› The Sacramento Bee published a story on making hoshigaki at our farm along with several good pictures of our family hanging the thousands of peeled, drying persimmons. (This may require a free registration.)
› Slow Foods USA has an article on hoshigaki that gives some of the history and mentions our neighbors, Jeff Rieger and Brenner Ranch, and ourselves as the sources for dried persimmons in the US.
› Gourmet Magazine featured our Maru (chocolate) persimmons in a December 2002 article.